News
Rochas Okorocha is not up to half the Man Prince Eze Madumere is, Oparaku slams Okorocha
A member of the Peoples Democratic Party PDP, in Owerri North, Mr. Chibuike Oparaku, have slammed former governor Rochas Okorocha, for making some unguarded comments against his former Deputy, Prince Eze Madumere.
Okorocha has been on the receiving end of attacks from Imo people, for attacking Gov. Hope Uzodinma, the presidency, as well as Prince Eze Madumere, in am interview he granted to Sun Newspaper recently.
Mr. Oparaku, in an article made available to MaaziTV, carpeted the former governor, pointing out that he was not up to the man Madumere was.
His article reads as follows;
Rochas Okorocha is not up to half the Man Prince Eze Madumere is
By Chibuike Oparaku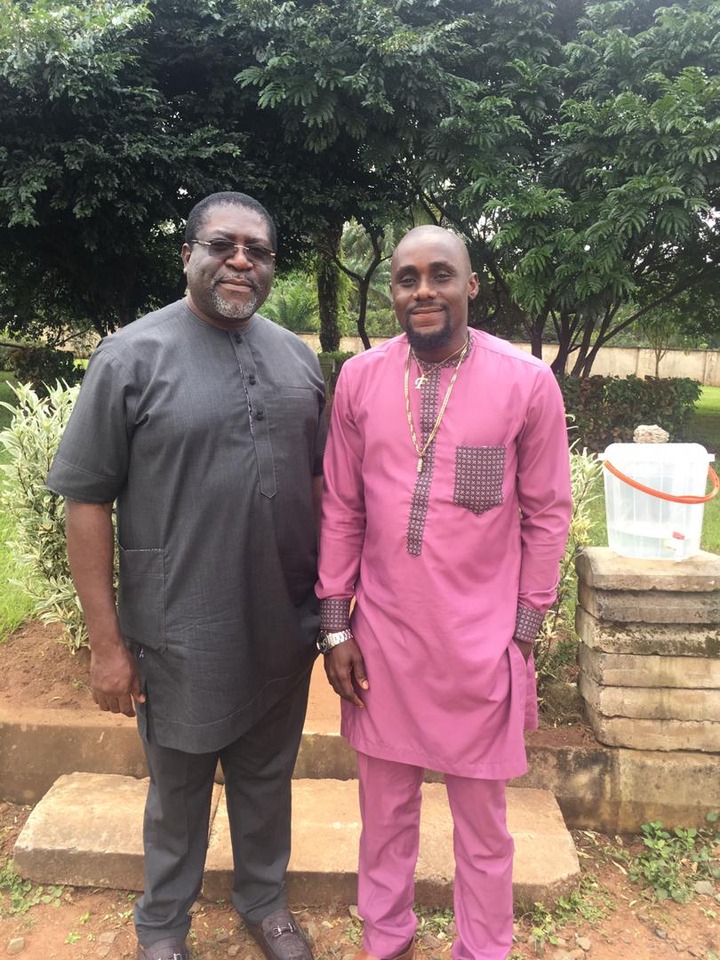 One of the happiest moments in recent history for Ndi Imo, was seeing Rochas Okorocha herded like a common criminal, into a police Hilux, as he was arrested for trespassing into government property.
Chinasa Nwaneri asked him a question, Okororcha should have taken time to reflect over, rather than rambling to the media, in a recent interview, over who he thinks is electable or not.
Who is Rochas Okorocha? That was Chinasa's question.
A lot of people in the state, will give you their different definitions, but everything they would tell you about Okororcha, would contain some or all of the following; the man who killed young Somtochukwu, the governor that owed pensioners for eight years, the man that cut workers salaries and owed them, the man who built substandard roads in Imo State, the man who converted people's lands to himself and his family, the man who could not give account of bailout funds and Paris Club refunds he collected from the Federal Government, a man who never obeyed court rulings.
I can go on and on about how Imo people will define Rochas Okorocha, if you should ask them.
Between Rochas Okorocha and Prince Eze Madumere in Imo State today, Madumere has the prospect of aspiring for, and winning any position he desires, but for Rochas Okorocha and his family members in Imo State, they are finished politically.
Neither Okororcha, or his family members, can aspire for even the least position in Imo State and win. This is a fact. In Imo State today, that name has become a taboo, a curse, and anybody associated with it, cannot be trusted to hold public office by the people of Imo State.
Rochas Okororcha's problem with Prince Eze Madumere, is that Madumere refused to support his plans to turn Imo State into a part of his family business.
You can imagine Okororcha claiming Madumere was unelectable, yet he was the one begging Madumere to go to the Senate, knowing that if he got Madumere by his side, he would have succeeded in installing Uche Nwosu.
Madumere's refusal to support such crime against Imo people, was the failure of Okororcha's plan to install Uche Nwosu.
Despite all the billions from state coffers, deployed to sale Uche Nwosu, an unmarketable product to Imo people, despite the effort to rig the election, Okorocha and his family failed to turn Imo State into their personal property, and that is Rochas Okororcha's real issue with Prince Eze Madumere.
A former governor once told me, that Rochas Okorocha was the businessman, always looking for where to cut corners and rip off people, while Prince Eze Madumere was the politician, and the force that made Rochas Okorocha governor. Without Madumere, there would have been no Rochas Okorocha holding office as governor of Imo State. In 2023, the Okororcha name, and everybody associated with him, will come crashing out of Nigerian politics forever, as there would no longer be a Madumere behind them, to help them grow.
If Okororcha was sincere to himself, he would admit, that he owes even his life to Madumere. If Okororcha could be this ungrateful to a man that saved his life, when family and friends turned their backs on him, how do you expect him to treat the people, who owe him only their votes?
No wonder he put Imo State through the worst eight years of her existence.
After eight years of Rochas Okorocha, Hope Uzodinma is starting from the scratch to rebuild Imo.
And when you see Rochas Okorocha still talking, when he should be covering his face in shame, one begins to wonder if his moral compass is working properly, or whether he has lost one or two nuts upstairs, because no reasonable person can understand from where he is arguing from.
Just reading through the report from the Judicial Panel of Enquiry, set up by Rt Hon Emeka Ihedioha, to probe the Okororcha administration, you'll weep for Imo State, and how Okororcha and his family pillaged and plundered the state.
As you wonder at Okororcha's moral and mental compass, you also wonder about that of his handful of supporters, who are clearly as broken as he is. Anybody that can make any attempt at defence for Okororcha, really needs his head to be checked.
From where are you going to defend him from? Are we talking about what he did to pensioners and civil servants, or the fact that even in his own Ogboko, Rochas Okorocha didn't leave one good road throughout the state, in his eight years as governor. Where are you defending him from? Probably because of our looted Commonwealth, from whence he is paying a few urchins peanuts to write for him.
Honestly, I laughed at Okororcha's shamelessness, when I read parts of his interview, as I couldn't waste my time reading them all.
To find out between him and Prince Eze Madumere, who is accepted by the people, and who is electable, let's see between Okororcha and Prince Eze Madumere, who can walk along Douglas road, all by himself, without protection from the police guard. At least I saw Madumere doing it, and he was cheered and accepted by the people. We expect to see Okororcha or any of his family members try it, to prove to us that he is electable and accepted by the people.
Rochas Okorocha is not up to half the Man Prince Eze Madumere is.